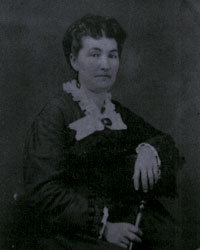 Huldah Whitaker
(1833 - 1908)
Father: Stephen Whitaker
Mother: Huldah Skinner
Spouse: Charles Myers
Although there is some discrepancy about the actual year of Huldah's birth, it appears as though she was probably born July 10, 1833 or 1834. She was the ninth of eleven children of Stephen and Huldah (Skinner) Whitaker and it seems likely she was born either in Warren or Clermont County, Ohio. In the early 1800's many members of the Whitaker family lived in Warren and Clermont Counties the southwest corner of Ohio, and it is likely that Huldah and Charles met through community associations.
In September of 1854, Charles H. Myers married Huldah Whitaker in Butler County, Ohio. "During the early years of their marriage, Charles and Huldah remained in southwestern Ohio - probably in Butler County. Charles first worked as a bookkeeper in a store, but later took up the occupation of farming. Charles and Huldah's first five children were born while the family still lived in Ohio. William Harrison was born in 1855, Leopold in 1856, Joseph Kellogg in 1858, Jerome Bonapart in 1860, and George Washington in 1862.
"Sometime in the early 1860's the family moved to Woodford County, Illinois, in or near the city of Eureka, where Charles was again engaged in farming. Isaac Newton Myers was born in 1864 in Jasper Ohio, or possibly Illinois. The last two Myers children, Lulu Angeline and Frank Edward, were born in or near Eureka, in 1866 and 1877.
"In 1883, Charles, Huldah, and at least their two or three youngest children, pulled up stakes and moved to the vicinity of Plum Creek (now known as Lexington), Dawson County, Nebraska. The family's first home in Plum Creek was a sod house. According to Don Hunt, one of Lulu Myers Hunt's grandsons, the farm Charles and Huldah finally settled on was north of Lexington and near the old Reed School House.
"A quote from an unknown county history book states that Charles "was a republican in his political allegiance but held no office other than that of assessor, as his private affairs demanded his entire attention." The lives of farmers and their families in this area of Nebraska were not easy ones. Charles and Huldah no doubt worked very hard keeping the farm running as smooth as possible and raising their children.
"By 1900, all of the Myers children were married. While daughter Lulu and family were the only immediate family members who stayed in Lexington, son George would come to stay for periods of time. There is no 1890 U.S. Federal Census available for most of the United States, but in the 1900 census for the State of Nebraska, found at the Dawson County Historical Museum, Lexington, NE, shows Charles and Huldah still living on the family farm in Dawson County.
"On July 3, 1908, Charles died suddenly. This is the paragraph that appeared in the local Lexington newspaper, as found at the Dawson County Historical Museum (although the newspaper account lists his age as 82, he was more likely 80 years of age): Charles Meyers (sic.), an old and respected citizen of Hillside precinct, dropped dead on Friday of last week on his farm. His lifeless body was found lying near a cow he had started to milk. He was 82 years of age and had resided in the county about twenty years. Heart disease was the cause of death.
"Sometime after Charles's death, Huldah moved in with her daughter and son-in-law Lulu and Matthew Hunt. This is where she died on April 25, 1916, at the age of 82 years."