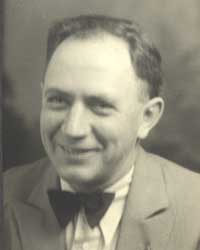 Gale Linn Strunk
(1894 - 1963)
Father: Edwin Mile Strunk
Mother: Ida May Carpenter
Spouse: Jessie Alice Myers
Gale Linn Strunk was born on September 6, 1894 in Clearlake, Cerro Gordo County, Iowa. Gale was the fourth son born to Edwin Mile Strunk and Ida May Carpenter. His only sister, Cecil, died at 7 years old in the same year Gale was born. His older brothers were Homer (born 6/28/1885), Harry (born 3/5/1889) and Ralph (9/8/1890). All of his older brothers were born in Nebraska.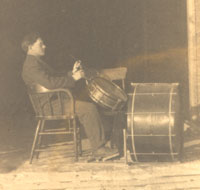 In the spring of 1899 when Gale was 4 years old the family moved to Lake Sarah Township, Murray County, Minnisota. Gale and his brothers grew up in this small farming community on the north-eastern side of Minnisota.
Sometime before 1910 Gale's oldest brother, Homer, started his own farm and then moved to Montana where he married Isabella Murrison in 1912.Homer got a job as a grain buyer for a grain elevator in Chocteu County, Montana.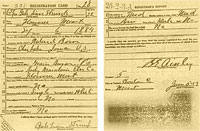 In 1915 the family left Lake Sarah. Gale moved to Floweree, Montana where he ran the grain elevator in Great Falls. The rest of the family moved to Whittier, California. On June 5, 1917 Gale registered for the WW1 draft. He was in Floweree just long enough to fall in love with Jessie Myers. Then on May 29, 1918 Gale was inducted into the U.S. Army, but not before becoming engaged to Jessie.
Gale was inducted into Company C, 364th Infantry. They trained at Camp Lewis, Washington, until boarding a troop train that traveled six days across the country to Camp Merrit, New Jersey. From there they sailed for France, following a zig-zag course to avoid the German U-boats on patrol in the Atlantic. They arrived in France in July 1919 where they proceeded to the Western Front and participated in the Battle of Ypres-Lys. On April 3, 1919 his unit returned to the United States where Gale was honorably discharged three weeks later on April 27th.
Gale returned to Floweree where he married Jessie Alice Myers on July 3, 1919. ... more