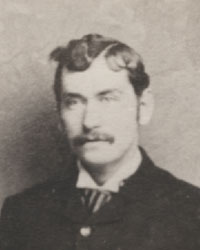 William James Colson Molineux
(1865 - 1954)
Father: Thomas Molineux
Mother: Ann Marks
Spouse: Annie Maria Howse
William James Colson Molineux was born on September 8, 1865 in Market Lavington (near Divizes) (or in Monmouth, Wales (near Swindon) as noted in some documents). He was the second son born to Thomas & Ann Molineux. He was christened on October 18, 1865 in Market Lavington, Wiltshire. Market Lavington (also known as East Lavington) is located on the edge of the Salisbury Plain in England's Midlands.
Wills' mother, Ann, died in 1877 when he was just twelve years old. In 1881, at fifteen, he became a grocer's apprentice. He apprenticed for John Ashley and lived with John and his wife at 2 Crown Street, Wellington, Salop (old name for Shropshire).
On the 14th of December, 1890, William married Annie Maria Howse (born 19 Nov 1868 in Aldridge, Staffordshire, England). In 1893 they had a daughter, Frances Annie Ada Molineux, in Aston, Warwickshire, England.
The family moved to Sparkhill, Yardley (1901 UK Census). The area had been an agricultural area until the 1850's when it became a housing area to support the industrial growth in Birmingham. In the late 1880s, developments appeared all over Sparkhill with creation of long, straight streets forming a uniform pattern. The new houses were terraced with their own back garden, coal shed and lavatory. Until 1894 Sparkhill was part of the Parish of Yardley. This ancient parish has a Saxon foundation with a connection to Pershore Abbey.
Sometime between 1901 and 1912 they moved to Crewe, about 20 miles South of Liverpool. Lived in Crewe, England prior to emigrating to America.
In 1912 Will emigrated to the United States with his wife, Annie, and nephew, Les Molineux. They departed Liverpool on April 2, 1912 aboard the S.S. Franconia. Ten days later, on April 12th, they arrived in Boston, Massachusetts. Stated occupation on arriving was grocer. Will and Annie lived in a rented house in Long Beach in 1920 where Will worked as a lumberman at a local lumberyard.
Will applied for citizenship on 28 October 1924. His petition approved 6 February 1925. Annie filed her petition on 18 Feb 1925 and approved 5 Jun 1925. Their address at time of application: 617 Orizaba Ave, Long Beach.
Will sold the house in Long Beach to an oil company and moved to Pasadena, where he bought a house (valued at $5,000 on 1930 census) and used the oil revenue for his retirement. In 1930 he lived in Pasadena with his wife Annie at 360 Elizabeth Street. The 1930 Census shows current age at last birthday as 63 for Will and 53 for Annie; age at first marriage to be 25 for Will and 21 for Annie.
Will died April 5, 1954 in Los Angeles, California. Annie died nearly 10 years later on 12 Oct 1964.