Thomas 'Les' & Cecile Molineux Family
On January 1, 1925 Thomas George Leslie Molineux and Cecile Rose Denslow were married in Walnut Gardens, California, in the presence of Cecile's mother, Gypsy (Mrs. C. F. Jacobs), and uncle, Grant Blue. (view marriage certificate)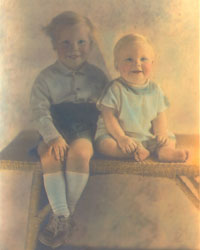 On September 18, 1925 their first son, <<private>>, was born in Long Beach, California. The family resided at 1820 Gardena Avenue in Long Beach, near the Signal Hill area. In 1926 they moved from Long Beach to 11438 Birch Street, Lynwood. On March 23, 1927 their second son, John Allen Molineux was born. The Lynwood house was surrounded by tomato fields. They made their own catsup. They also had a horse named Peanuts who was used to plow the fields. There was a 2-story tack room where their oldest son would jump out the window into the hay and go home itching all over! They had a little brown & white mixed breed dog named Bobo. A big german shepard who lived down the street would wander by and Bobo would sit in the middle of the yard and growl and chase him down the street!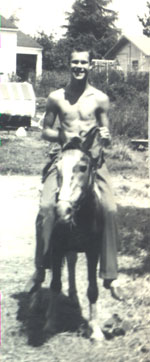 In Lynwood, raised rabbits and had a goat. Butchered the rabbits for food and drank goats milk. Bread was .10/loaf, hamburger .10/pound. They had a plate in the middle of the table where they would put their pennies ... the kids would raid it to go buy candy. Lived well until 1929 when Les's hours and pay were cut. Les had just got a raise to $0.50/hr.
Soon the family moved to 552 So. Sefton, Montery Park. Twins <<private>> and <<private>> were born on October 18, 1929. Two-weeks later the stock market crashed and ushered in the great depression. This was during the prohibition era so they made orange champagne; even had bottle cappers and all.
Shortly before her death in 1931, Gypsey moved in with the family. They bought an Electrolux Refrigerator to keep her heart medicine cold. Before the refrigerator they had an ice chest. This was back when the Helms Bakery trucks brought baked goods for purchase right in fron of your house and milk was delivered to the house in glass bottles. When you wake up the milk is sitting on your porch.
At 5:55 P. M. on Friday, 10 March 1933 a magnitude 6.4 earthquake struck in Long Beach. The quake caught Les on the toilet; "running out of the house while pulling his pants up." The earthquake knocked all the goods off the kitchen shelves. "Mom had a kettle of potatoes cooking that fell off the stove and all over the floor" recalls their oldest son.

On December 7, 1941 the Japanese bombed Pearl Harbor and our country was at war again. April 3, 1943 son <<private>>, at age 17, enlisted in the US Army Air Force.
Later separated from Cecile around 1946 while his children <<private>> and <<private>> were still living at home. Lived in California for 40 years. Moved to San Diego briefly in about 1930, and then back to LA County area.