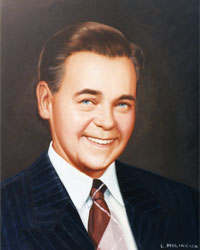 Thomas George Leslie Molineux
(1893 - 1961)
Father: Thomas Molineux
Mother: Alice Elwell
Spouse: Cecile Rose Denslow
Born August 14, 1893, in Willenhall, Staffordshire, England (view birth certificate). 'Les' was the only child of Thomas Molineux and Alice Elwell. His father was a butter dealer with a shop in Willenhall, a sub-district of Wolverhampton, located in England's midlands. He grew up in Wolverhampton where the family lived on on Acorn Road.
Wolverhampton's history dates back to 910AD when King Alfred's son, Edward the Elder, led the Saxons to defeat the Danes. In 985 the land was gifted to Lady Wulfruna, thought to be the daughter of King Edgar. Wolverhampton grew from about 200 people in 1086 (The Doomsday Book) to around 23,000 when Les's father was born in 1868. By the time Les was born in 1893 the population had increased to 90,000. Wolverhampton was a booming industrial borough in the heart of England's Midlands. In 1898, when Les was 5 years old, Wolverhampton celebrated its Jubilee. Three years later, in 1901, they brought electricity to the rapidly growing borough.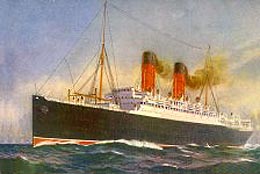 Les emigrated to the United States with his uncle Will (William James Colson Molineux) and aunt Annie (Annie M. [Hauser] Molineux) when he was 19 years old. They sailed from Liverpool on April 2, 1912 in second-cabin aboard the S.S. Franconia (view passenger manifest). They arrived in Boston Harbor eight days later on April 10; a clear spring Wednesday with temperatures around 45°. This was the first time young Les set eyes on the United States, where he would make his home for the next forty-nine years.
On this same day the rail engineers in the northeast were casting their ballots to determine if the threatened rail strike would happen, shutting down trains north of the Potomac River and east of the Mississippi River. In Chicago the ballots were being counted from yesterday's presidential primary race and Teddy Roosevelt was leading. Back in England another liner was departing from the port at Southhampton on her maiden voyage: the Titanic. With 3,000 passengers on board she followed the same path from England to the United States but sank with a tremendous loss of life on Sunday evening April 14, 1912. The S.S. Franconia, now headed back to England, stood off Boston Light relaying wireless transmissions from the Carpethia to the port authorities. Luckily for our family, Les chose the SS Franconia and not the heavily promoted Titanic for his trip to start a new life in the United States. But with $50 in his pocket and a train ticket to California this was probably the most exciting day of his life up to this time.
Les, Uncle Will and Aunit Annie were bound for Los Angles, California to meet-up with a friend, Mr. Morton, already in Los Angeles (looking for more information about Mr. Morton and his relationship to the family). After arriving in Boston they were required to transfer to Ellis Island for formal entry into the country. (This is still being verified; first and second-cabin passengers arriving in Boston before 1915 generally cleared customs in Boston.) Once their entry was approved they traveled to Los Angeles County, California.
In California Les first worked at a lumbermill in either San Pedro or Long Beach. Later he took a job as a mechanic for Frese Optical Company on Hill St., Los Angeles between 7th & 8th Streets.
In the spring of 1917 Les was single and living at 622 S. Hope St., Los Angeles. The political unrest in Europe had increased and now involved the United States. On Tuesday, June 5, 1917 Les registered for the WW1 draft at Los Angeles precint 394 (view registration card) during the first registration. At 23 years old, Les was 5'11" tall, of medium build with dark gray eyes and brown hair. Les served in the U.S. Army and became a US citizen after he was honorably discharged.
Les married Cecile Rose Denslow on January 1, 1925 in Walnut Gardens, Los Angeles County, California. This union produced three sons and one daughter.
(more about their family) Les & Cecile separated around 1945. The two youngest children lived with their mother after the separation.
Les worked as a machinist for the US Tire & Rubber Company (formerly Samson Tire Company) in Southern California for 32 years. He lived in California from the time he emigrated until his death in Long Beach on April 15, 1961. (view death certificate) He now rests in Rose Hills Cemetery, Whittier, California, Grave 1, Lot 551, Twilight Terrace.