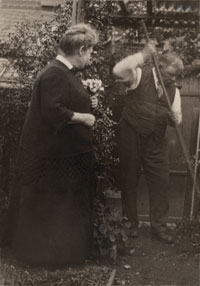 Thomas & Alice Molineux Family
Early in 1891 Thomas Molineux married Alice Elwell in Birmingham (St. Thomas), Warwickshire. They lived at 125 Ryland Road, Birmingham. Alice's older brother George, her widowed mother Catherine and her younger brother Howard were living with them. Thomas molineux managed a grocery.
In 1893 they had a son, Thomas George Leslie Molineux. He was to be their only child and would emigrate to America before his 20th birthday.
By 1901 Thomas & Alice continued the Elwell & Maddocks family tradition and ran a pub at 10 & 11 King Street, in Dudley.
... and on Acorn Road, Wolverhampton, in 1912.