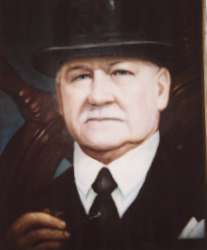 George Molineux
(1868 - 1951)
Father: Thomas Molineux
Mother: Ann Marks
Spouse: Maud Mary Colvin
George and his twin brother Thomas were were born April 12, 1868 in Devizes, Wiltshire, England. They were the youngest of four sons born to Thomas Molineux, a tax collector, and Ann Marks. He had two older brothers: Henry, born in 1862, and William, born in 1865.
Devizes is located on the edge of the Salisbury Plain in a region known as the West Country. It is a rural area characterized by rolling hills and villages. It includes such landmarks as the roman baths and the prehistoric stone circle of Stonehenge. The rich cow grazed pastures of the valleys produce the Cheddar cheese for which the region became famous. It is also the land of the legendary King Arthur.
In 1870 George gained a sister, Frances Ann. The family continued to live in Devizes until their mother died in 1877. George was just 9 years old when his mother died. By 1881 the family scattered to several areas, all within England's Midlands. His oldest brother, Henry, moved to Southampton where he continued his studies. William moved to Wellington, Shropshire where he became a grocer's apprentice. George returned to Hagley with his father, grandmother (Sarah Marks), his brother Thomas and his younger sister Frances Ann. The 1881 UK Census shows they lived on Park Street in Wellington parish just a few blocks from the train station.
George studied to be a teacher but instead made a career in the Army. On January 4, 1887 George enlisted in the Coldstream Guards. (Enlistment page 1 and page 2) He was 18 years and 8 months old when he enlisted in Birmingham, with grey eyes, brown hair, standing 5'8-3/4", weighing 142 lbs, and with no distinguising scars or marks. He was a member of the Church of England. He was accepted into the London Horse Brigade two days later on January 6th, 1887.
In 1891 George was a 23-year old Lance Sergeant in the 1st Battalion Coldstream Guards and Army Service Corps. He was stationed in Chelsea, London, England.
George married Maud Mary Colvin on July 1, 1899. More about their life together.
George died 19 March 1951 at the age of 83.