Ann Marks
(1838 - 1877)
Father: James Marks
Mother: Sarah Marks
Spouse: Thomas Molineux
Ann Marks was born in 1838 in Braishfield, Hampshire, England (near Southampton). The daughter of a baker, Ann grew-up in Michelmersh with her younger sister Fanny.
She married Thomas on January 28, 1861. The ceremony was held in the St. George's Church, St. George parish, Birmingham. Officially witnessing their marriage was George Molineux, Thomas's older brother, and Sarah Molineux, who I think was his mother. Sarah Molineux did not sign her name to the certificate, but only her "X" mark, indicating that she was either too frail to write her name or was raised in farm country and had not learned to write.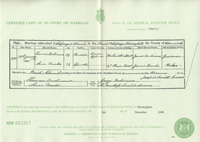 Ann and Thomas settled in Devizes, Wiltshire, and raised a family of five children. view more about her life with Thomas
Ann died in 1877 at the young age of 39.